Testing?
Here's your chance to make a great first impression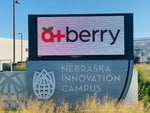 WE'RE A BIG 10 FOOD TECH COMPANY CREATING INNOVATIVE &HEALTHY DRINKS
We created an innovative process using a healthy ingredient (dietary fiber) technology that uses a High Pressure Processing to kill microbes in the juice at cold temperature. This patent pending process (No. PCT/US22/72484) improves the taste and nutrition of the A+ Berry Aronia juice.
Emerging Innovator of the Year, Univeristy of Nebraska-Lincoln, 2022
Co-Founder, Dr. Xu
"Our mission with A+ Berry, is to improve human health through innovative and delicious antioxidant drinks that utilize cutting-edge Food Technology and the top-ranked super fruit Aronia Berry, and bring positive impact to the Midwestern Agriculture."
Through our patent pending innovative process, we discovered the way to improve the taste and nutrition of A+  Berry AroJuice. This process took out the tartness and added a sweet component that makes AroJuice uniquely delicious. 
These are real comments from our customers
5

Great and unique flavor. We love it.

5

I love the natural taste. Not very sweet. Enjoy every
bottle!

5

Great taste! Taste even better mixed with orange juice

5

Unique and wonderful taste,  I love it